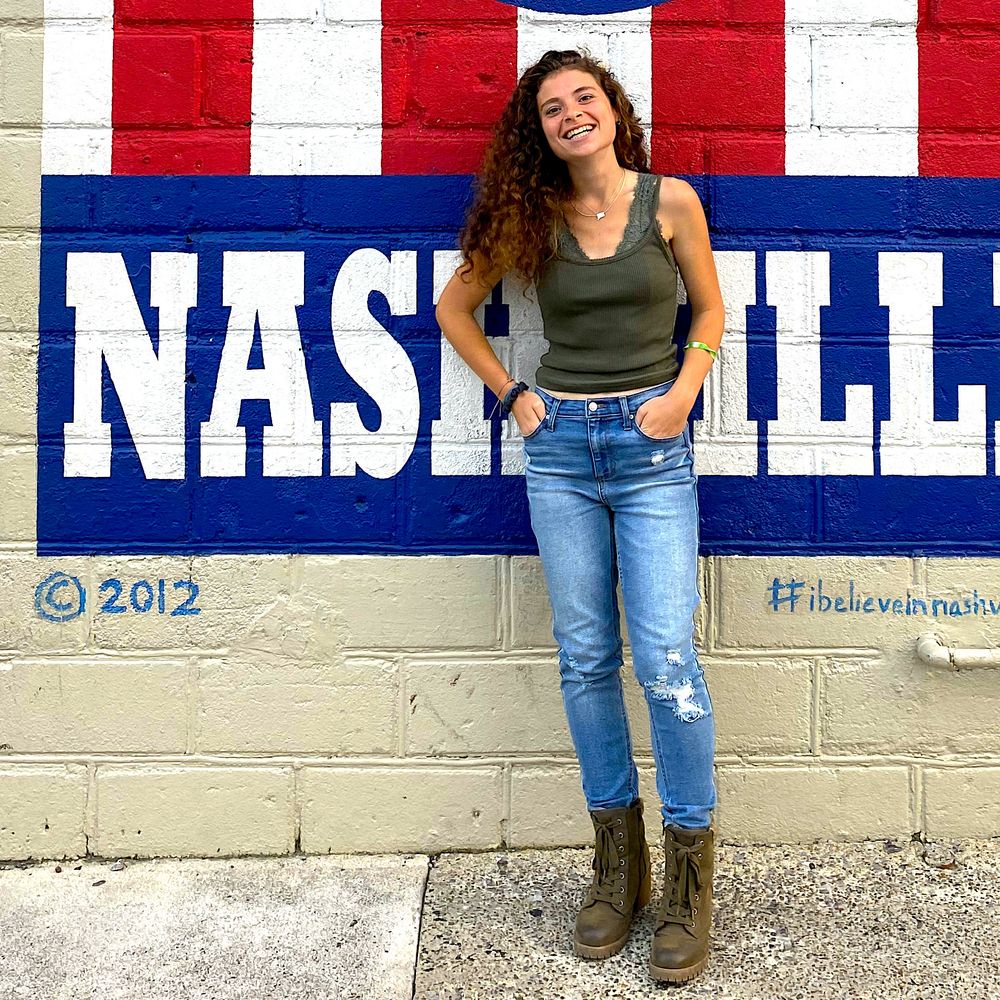 Bio
Hi! I'm Julie. Thanks for visiting the page. I'm a singer-songwriter from Newtown, Connecticut, and I'm currently taking on Nashville at Belmont University pursuing my BA in Songwriting. I got my first taste of music with piano lessons on an old upright piano in my childhood home and haven't stopped playing since. After trying every activity I could growing up, music was the only thing that really stuck. Songwriting came later, and really became a passion after discovering an unexpected brother-sister partnership with my brother Jeff, who I write a lot of music with. You could describe our style as singer-songwriter, ballad driven, and indie. 
After spending my high school career at Educational Center for the Arts in New Haven, Connecticut, I realized music is the only thing I want to do with my life. Writing, performing and producing are what I love most. All the music I've released I've also produced, and I spent the last year gigging in a duo all around Connecticut at restaurants, bars and wineries. If I'm not playing music, you'll most likely find me running, cooking, and finding the best new restaurants in town with my friends. 
You can find my music anywhere you stream! Follow my socials and check back here for any updates on shows or new releases! Thanks for your support.  :)
-Julie 
Available for gigs!
Available to play solo piano/guitar/voice gigs with a diverse set spanning several genres. Each set can be catered to any venue. Song list includes:
Country 
American Honey- Lady A 
Before He Cheats- Carrie Underwood 
Chasin' You- Morgan Wallen 
Chicken Fried- Zac Brown Band 
Cover Me Up- Morgan Wallen 
Dibs- Kelsey Ballerini 
Die From a Broken Heart- Maddie & Tae 
Golden Hour- Kacey Musgraves 
I Hope You Dance- Lee Ann Womack 
Leave the Pieces-The Wreckers 
Life's Too Short- Darius Rucker 
More Hearts Than Mine- Ingrid Andress 
Need You Now- Lady A 
Neon Moon- Brooks & Dunn 
Raining on Sunday- Kieth Urban 
Red Dirt Road- Brooks & Dunn
Road Less Traveled- Lauren Alaina 
Stay- Sugarland 
Slow Burn- Kacey Musgraves
Strawberry Wine- Deana Carter 
Talkin' Tennessee- Morgan Wallen 
Travelin' Soldier- The Chicks 
Wagon Wheel- Darius Rucker 
What if I Never Get Over You- Lady A 
Wide Open Spaces- The Chicks
Classic Rock 
Bennie and the Jets- Elton John 
Can't Help Falling in Love- Elvis 
Don't Let the Sun Go Down on Me- Elton John 
Don't Stop Believin'- Journey
Hallelujah- Leonard Cohen 
I've Seen the Saucers- Elton John 
Landslide- Fleetwood Mac 
Mary Jane's Last Dance- Tom Petty and the Heartbreakers 
New York State of Mind- Billy Joel 
Piano Man- Billy Joel 
Sorry Seems to Be the Hardest Word- Elton John 
Valerie- Amy Winehouse 
Your Song- Elton John 
Pop/Alternative 
1985- Bowling for Soup 
All Too Well- Taylor Swift 
Chasing Cars- Snow Patrol
Cough Syrup- Young the Giant 
Dear John- Taylor Swift
Falling- Harry Styles 
Good Riddance (Tine of Your Life)- Green Day 
If We Were Vampires- Jason Isbell 
Lie to Me- 5 Seconds of Summer 
Madness- Muse 
Plug in Baby- Muse 
Slow Dancing in a Burning Room- John Mayer 
Starlight- Muse
When I Was Your Man- Bruno Mars 
And plenty of originals!